Ever since March 2020 dividend investors have been seeking clarity from the companies that fall within the "dividend cutters and suspenders" categories. Historically, when a company falls onto the cutter list, they end up remaining in that category for a long time. As a result, dividend cutters are forced to revisit their business model and ideally correct course back towards dividend growth.
More recently companies have been opting for a more temporary solution, suspending their dividend. The "suspender" category first occurred in the 2008 Financial Crisis and more recently during the Covid-19 pandemic. As a result, thirty-one companies suspended their dividends, and some are now starting to reinstate.
Below is the S&P500 GICS table as of November 30th. We have also provided some observations on sector constituents for their Pre/Post COVID-19 dividend policies.
Walt Disney Company, the most broadly held company in dividend focused strategies, remains a non-payer for six straight months. Disney is the only Communication Services constituent impacted from that sector.
The hard-hit Consumer Discretionary sector saw two companies reinstate their dividends: TJX Companies and Darden
TJX announced a 13% increase to the reinstated dividend from their previous dividend payment. Darden reestablished their quarterly dividend at a lower rate.
Two Real Estate Investment Trust sector constituents, Kimco Realty and Weyerhaeuser, both reinstated their dividends at a lower rate.


As of November 30, 2020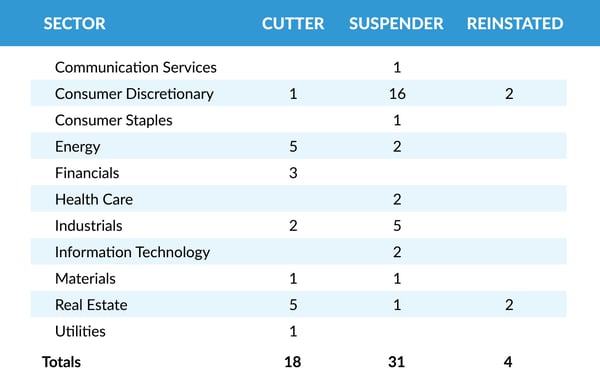 Source: FactSet Research, Brentview Investment Management
This commentary reflects the views of the Brentview Investment Management and is subject to change as market and other conditions warrant. No forecasts are guaranteed. This commentary is provided for informational purposes only and is not an endorsement of any security, sector, or index. Information provided is deemed to be reliable but is not guaranteed and should be independently verified. The commentary should not be seen as a solicitation or offer to buy or sell any securities. The advisor (Brentview Investment Management, LLC), and their employees and clients, may hold or trade the securities mentioned in this commentary. Diversification does not guarantee a profit or eliminate the risk of a loss. PAST PERFORMANCE IS NOT A GUARANTEE OF FUTURE RESULTS.
---
If you would like to learn more about Brentview Investment Management and the Dividend Growth Strategy please, click here